In late April 3DIcon representatives attended the SPIE Defense, Security and Sensing (DSS) conference in Baltimore, Maryland. The conference was attended by more than 6,000 scientists, researchers, program managers, and various company representatives, and is considered one of the preeminent technical exhibitions for optics, imaging, and sensing professionals in the defense, security, industrial, health, and environmental sectors. There were 380 exhibiting companies, including SCHOTT Defense, who gave a joint product presentation in collaboration with 3DIcon on April 22 entitled, "3D Volumetric Display Technology for the Warfighter." The presentation by SCHOTT Defense and 3DIcon was well received and exceeded seating capacity of the exhibition venue. Audience response included questions related to physical format (size and weight) of the planned display and how this might impact markets being considered. "Initial markets being considered require a desktop display that can be observed simultaneously by one or more professional users and, while it could be considered mobile, the display configuration currently being developed would not be suitable for portable use," responded Doug Freitag, Vice President of Technology and Business Development. While the presentation with SCHOTT Defense was the highlight of 3DIcon's presence at the conference, the conference also provided an opportunity to speak with exhibiting optical engineering firms developing next generation display products. Many of these firms confirmed growing interest in 3D visualization and stated that projects are currently being funded by multiple industry clients seeking to develop new products. "We are pleased to see the continued interest in 3D visualization and believe that an optical engineering firm would complement work currently underway with SCHOTT Defense. We plan to follow up with leading candidates identified during the conference and through follow-up discussions with SCHOTT Defense with the goal of forming a joint development agreement," stated Doug Freitag.
– Doug Freitag, Vice President of Technology and Business Development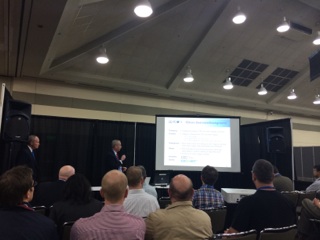 Jim Stein (left) of SCHOTT Defense and Doug Freitag (right) of 3DIcon address the crowd during their joint exhibition.
Jim Stein (left, SCHOTT Defense) and Doug Freitag (right, 3DIcon) outline the various market opportunities for 3D volumetric display technology during their SPIE presentation.